Meet Our Consultant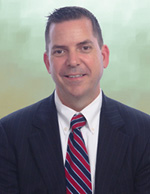 Gary Henderson, CRPC®
As a Chartered Retirement Planning Counselor® professional with over 18 years in financial services, Gary has experience in helping members with various needs related to their financial plans. He believes that personalized service is essential when matching clients with the right financial strategies.
Gary's personalized, consultative approach to our members' financial goals and dreams includes the following:
• Customizing plans and strategies based on each member's unique needs including: liquidity, taxes, income, legacy plans, risk tolerance and stage of life.
• Gary recommends strategies based entirely on the comprehensive plan he has created for that member.
• Performing a GAP analyses is central to Gary's planning process. This helps members determine if they have enough sources of income to cover expenses in retirement.
• After income and liquidity needs have been addressed, Gary helps our members find strategies for additional money which may focus on Legacy (leaving money to loved ones) or what he calls "Someday/Maybe" money.
Gary is a native Palm Beach County resident. As such, he is dedicated to developing lasting relationships with all our clients. He believes in helping you assess your financial goals and participate in the management of your finances.
One of the benefits of working with Gary is his ability to provide clear, easily understood explanations of financial products and services. The personalized program that he can provide is a roadmap to working toward a more confident financial future.
Velocity Community Investment Services utilizes LPL Financial to provide brokerage services to Velocity Community Credit Union members. Even if you already have a broker that handles your finances, Gary will offer a complimentary, no obligation, second opinion or portfolio review.